News Archive - March 2016
Over at Infinity Inquirer they've spotted a tweet by FlashDash3579 which appears to show a photo of the back of some promotional food packaging with an image of a Dory figure for Disney Infinity 3.0 along with text confirming that she'll be part of a Finding Dory Play Set.
Hopefully we won't have to wait another 4 and a half months for Disney Infinity PR to properly reveal all these new characters. Especially as the film's out in three.
Oh and the Kylo Ren LightFX figure has been shown off a little by the official Star Wars Instagram.
In a PS4 patch released today to get the game ready for the launch of Marvel Battlegrounds on Tuesday, several unannounced characters appeared in the Character Townspeople and Character Portrait pages of Disney Infinity 3.0's Toy Store. Those characters being Alice, Mad Hatter, and Time who are all from the upcoming Alice Through the Looking Glass film.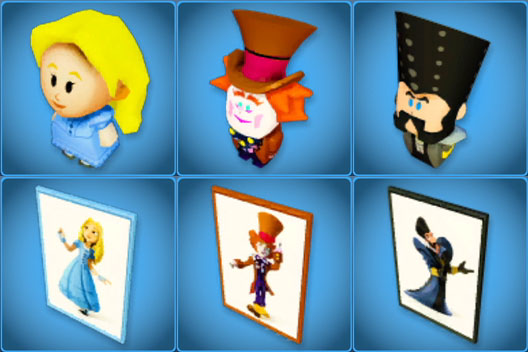 The film is due out at the end of May so the figures can't be too far away.
However their inclusion in this 2.5GB patch does essentially mean the likelihood of them being part of a Play Set has pretty much now vanished. This means speculation for the Disney Play Set slot is back on! Possible other films that could fill that gap releasing this year include The BFG, Pete's Dragon, and Moana, with Moana now being a probable frontrunner.
And of course the patch being live means that anyone who has managed to get hold of the Marvel Battlegrounds figures early can start playing with them.
Thanks to Marrow for the heads up on this one.
Polygon has an article about today's announcements on the Disney Infinity Next video which mentions that there will not be a Disney Infinity 4.0 in 2016, instead they will be creating four new Play Sets (that count is apparently including Battlegrounds) to fill the gap.
Just like the upcoming Marvel Battlegrounds these will all require an internet connection to update your game. While the exact properties they will be based on were not specifically mentioned they did say that the other three will be Star Wars, Pixar, and Disney themed, and hints at the end of the Next video suggest Finding Dory and Alice Through the Looking Glass as high possibilities for two of those slots, and on pure guesswork I'd say the Star Wars is probably going to be based on Rogue One now that they've said no new Infinity game this year.
In the rest of the Disney Infinty Next video they did little more than confirm all of the characters we knew about (Ant-Man, Black Panther, Vision, and Baloo) but here's a trailer for Battlegrounds.
And here's some images that were released alongside the video:
Disney Infinity Next has been put forward as a new video series to promote upcoming content, so if the hinted at properties are correct we can perhaps expect the next one in May.