Spider-Man Bonus Box Locations
Littered throughout the Spider-Man Play Set's version of New York City are one hundred floating cubes, this page has a map and plenty of screenshots to help you track them all down.
There are five different types of Bonus Box, each requiring a different ability to collect. There's Web Swing, Wall Crawl, Flight, Super Jump and Maximum Strength. A character can have more than one of these abilities but none have them all. If your character does not have the required ability all you will be able to see is a hazy outline and you'll be unable to pick it up.
You can get all of the Bonus Boxes as soon as you enter the open world of New York City for the first time, nothing is locked away. Spider-Man and Venom both have an upgrade that allows you to see these items on your radar but you still have to be quite close by.
The grand reward for finding all of the Bonus Boxes is the "J. Jonah Jameson Ranting TV" item for your INterior, to claim it once you have found them all you must go to your INterior and open the box that has appeared.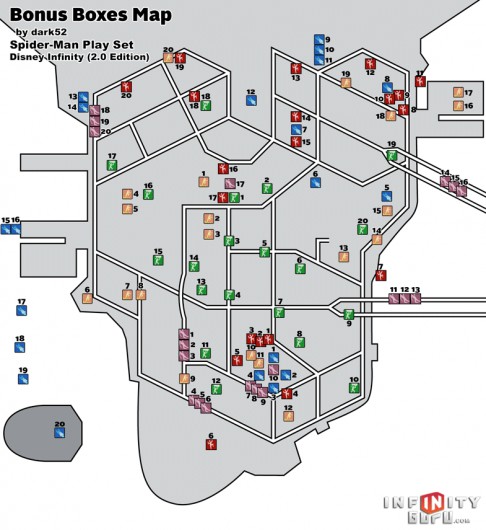 Web Swing Bonus Boxes
Characters that can Web Swing in the Spider-Man Play Set are Spider-Man and Venom.
Wall Crawl Bonus Boxes
Spider-Man, Venom and Hulk are the characters that can Wall Crawl.
Flight Bonus Boxes
Nova and Iron Man are the two that can fly.
Super Jump Bonus Boxes
Spider-Man, Venom, Iron Fist, Green Goblin and Hulk can all have the ability to Super Jump.
Maximum Strength
Iron Fist, Venom, Green Goblin and Hulk are your Maximum Strengthers.
A lot of these are found by smashing Water Towers but you may be able to spot them from a distance if your game loads the boxes before the reservoir hiding them.