The Starter Pack for Disney Infinity 3.0 has been spotted by German fansite mydisneyinfinity.de on a German retailer's website (link may stop working soon). It confirms what everybody really knew already, that Disney Infinity 3.0 will be focusing its gaze towards Star Wars.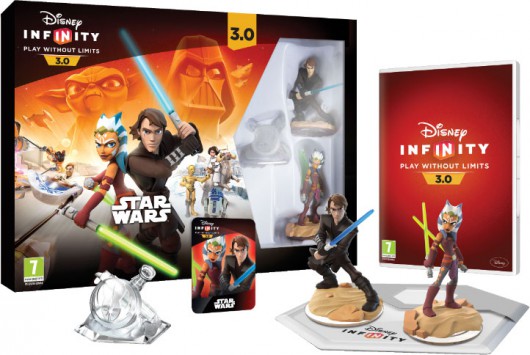 The Starter Pack features two characters from the Clone Wars series: Anakin Skywalker and Ahsoka Tano as well as the customary Play Set Piece to use them with. Compared with 2.0's offering of three characters a Play Set and two Toy Box Games it looks a little empty.
Further characters are seen on the box itself including Obi-Wan Kenobi, Yoda, Darth Vader, C-3P0, R2-D2, Princess Leia and what looks like Darth Maul in a Pod Racer. While it is not clear whether they are all going to be playable characters (2.0 had only playable characters on the box but the first game's box featured some non-playable characters), they certainly appear to imply further Star Wars themed Play Sets from the different eras (unless they are all somehow combined into one giant Play Set I suppose). There are however no signs of any of the new characters from The Force Awakens, at least not just yet.
The retailer lists versions of the game for Wii U, Xbox 360, Xbox One, PlayStation 3 and PlayStation 4, all with a release date set for the 20th of August 2015, that's just four months away!
And finally if you missed the most recent update to the previous news post, three additional single Disney packages were leaked on Taobao that confirmed the existence of an Inside Out Play Set in 3.0. So at least this go around there'll be a bit more variety and it won't be all Star Wars all the time.
Looks like it's time to start up that hype train for Disney Infinity 3.0! A new German fansite mydisneyinfinity.de has spotted listings on Taobao, a Chinese online marketplace, for Mickey Mouse and Mulan in what appears to be Disney Infinity 3.0 packaging - but in a case of disappointment as old as Disney Infinity itself they are both marked as Toy Box only.
The listings also include a photo of the back of the packaging which shows off a whole selection of other Disney Originals. They include the two Tron figures that got cruelly snatched away from us in 2.0 (Sam Flynn and Quorra), the aforementioned Mulan, the classic design Mickey Mouse, Minnie Mouse, Olaf from Frozen and the five emotion characters from the upcoming Pixar film Inside Out (Joy, Fear, Anger, Disgust, and Sadness) - the large number of which could indicate a Play Set (but that is of course pure speculation).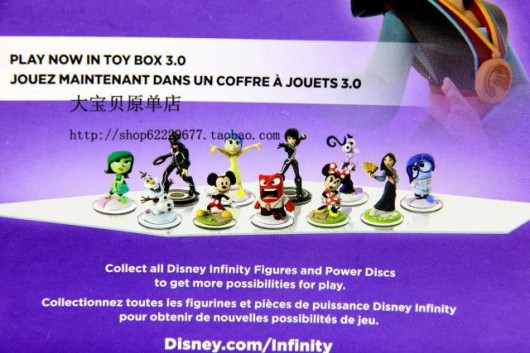 Remember that in the past we have seen marketing material for characters that did not appear in the final games, so even with this clear evidence of their existence don't get too attached to all of them until they are more officially revealed.
Update 27/4: Additional boxes have appeared. The three new single boxes are Disgust, Fear and Sadness. And yes, they do indeed have an "Inside Out" Play Set icon on the back. Which means that Joy and Anger are therefore likely to be the pair that will be in the Play Set Pack itself.