The big Disney Infinity 2.0 reveal for E3 is the debut of the Spider-Man Play Set.
There are five playable characters; Spider-Man, Nova, Iron Fist, Nick Fury and Venom. The Play Set's storyline is described as follows:
[quote from="Spider-Man Play Set Story" href="http://disneyinteractive.tumblr.com/post/88370546407/marvels-spider-man-play-set-swings-into-disney" class=""]
The Spider-Man Play Set features a brand new storyline as the Green Goblin tries to destroy S.H.I.E.L.D. once and for all. After capturing Venom to extract and clone symbiotes from him, he hires Mysterio to be his second in command and wreak havoc on the Marvel universe. Players will fight the spreading symbiotes and face Mysterio and Green Goblin in in the sewers, labs and skies above Manhattan.
[/quote]
The Play Set will also feature appearances from characters like White Tiger, Black Cat and Luke Cage. Unlockable items for the Toy Box include a S.H.I.E.L.D. Hover Car, a S.H.I.E.L.D. Sky Cycle, and the Daily Bugle Building.
During Sony's E3 press conference there were a couple of blink and you'd miss it mentions of Disney Infinity 2.0. First it was announced that there would be a special collectors edition of the game for PlayStation 3 and PlayStation 4 which will contain all six of the Avengers characters, including the Hulk who won't otherwise be available to buy at launch. He will of course be released later so don't worry too much if you don't have a PS3 or PS4, you'll just have to be patient (although I'm sure eBay will have plenty).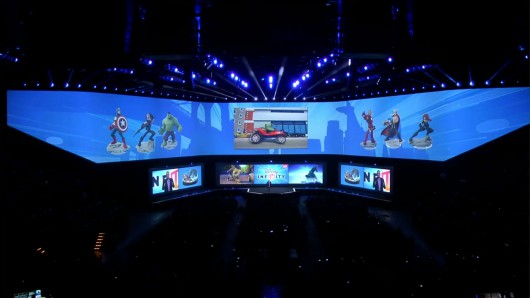 The second mention was during a section about the new PlayStation TV device (also known as PS Vita TV in Japan), it was mentioned that Disney are at work on a Vita version of Disney Infinity 2.0 that will launch early next year.

Toys R Us and Target have put several new items up for pre-order confirming a Spider-Man Play Set along with several other new characters as part of the Spider-Man collection including Spider-Man and Nova who are included in the Play Set itself, as well as single figures for Venom, Iron Fist and Nick Fury (since he's in the Spider-Man set rather than the Avengers set he is not a part of the exclusive PlayStation collector's edition).