Bonus Box Locations
Strewn around New York City in the Avengers Play Set of Disney Infinity Marvel Super Heroes (2.0 Edition) are lots and lots of floating cubes, you can collect them to unlock pieces of concept art.
There are five types of Bonus Box in the Avengers Play Set, each set requiring a different specific ability to collect. The categories are Flight, Tech, Maximum Strength, Super Jump and Wall Crawl. Characters can have more than one of these abilities but none have them all, if your character doesn't have the required ability all you can see is a hazy outline of the box which you cannot collect.
You can get almost all of the Bonus Boxes as soon as you emerge from the Avengers Tower at the start of the game, however each set has one box in an area of the game that opens up later in the story (it'll take around fourteen missions to get there if you only do the main path).
The grand reward for finding all of the Bonus Boxes is the "Eye of Agamotto" item for your INterior, to claim it once you have found them all you must go to your INterior and open the box that has appeared.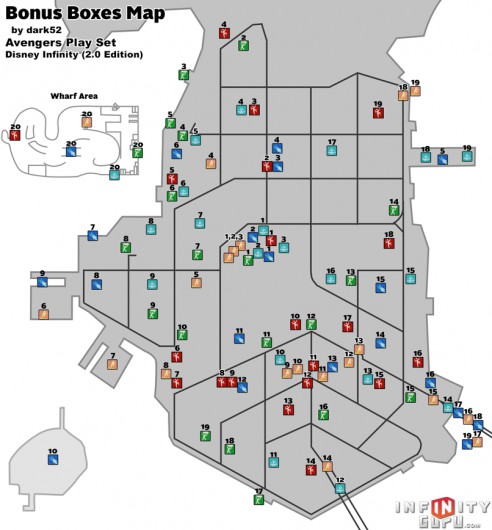 Flight Bonus Boxes
In the Starter Pack both Thor and Iron Man have the Flight ability. Your other options are Falcon and Nova.
Super Jump Bonus Boxes
In the Starter Pack only Black Widow has the Super Jump ability. Other than her you can use Captain America or Hulk.
Maximum Strength Bonus Boxes
In the Starter Pack only Thor has the Maximum Strength ability. The only other Avenger to possess Maximum Strength is, apparently, Hulk.
Tech Bonus Boxes
In the Starter Pack both Iron Man and Black Widow have the Tech ability. Hawkeye also has the Tech ability.
Wall Crawl
The only Avenger to possess Wall Crawl is Hulk.