News Archive - May 2013
And now it's Monsters University's time to get the focus, the official Disney Infinity Youtube account has posted brand new videos showing off the Monsters University Play Set itself as well as the three playable characters.
Sulley
Mike Wazowski
Randy
Play Set
There's also a small selection of new screenshots that have been posted in our own Screenshots Gallery.
Just like with the Cars Play Set a brand new set of videos focusing on each of the characters from the Pirates of the Caribbean Play Set has been posted on the official Disney Infinity Youtube channel.
Jack Sparrow
Barbossa
Davy Jones
Pirates of the Caribbean Play Set
Disney have also released a whole new set of screenshots from the Play Set that you can find in our Screenshots Gallery.
Despite the lack of any retailers with a pre-order for them the ESRB have just given a rating to Disney Infinity which includes Mac/PC as platforms for the game, as well as the expected PlayStation 3, Xbox 360 and Wii U versions.
Quote: ESRB
This is an adventure game in which players control toy versions of Disney characters that explore game worlds made entirely of toys. Players use an assortment of "cartoony" weapons (e.g., exaggerated-sized pistols, swords) to defeat enemy robots, monsters, and pirates. Combat can involve attacks such as sword swings, head-butts, and pistol fire; enemies break apart into pieces and disappear amid scattered coins when defeated. During some sequences, players can engage in more realistic sea battles, which are accompanied by canon fire and large explosions.
A seemingly finalised version of the boxart has also recently appeared on pre-orders for the game, it's much more colourful and shows off characters from the three Play Sets that are included with the Starter Pack.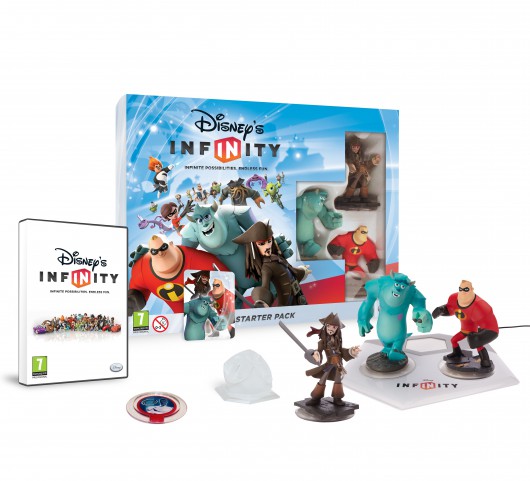 Amazon.co.uk have posted images of a lot of the upcoming accessories for Disney Infinity (you can find them all in the Packaging Gallery) but what's interesting is that several images show confirmation of The Lone Ranger and Tonto as toys, including this one shot of the Modular Display Cases: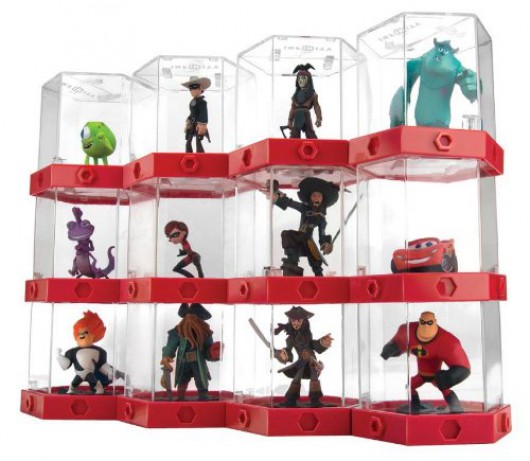 They're also inside the Messenger Bag and have artwork on the front of the Power Disc Album. The new Lone Ranger movie is due out in July so it is entirely possible that the characters will be available at launch for Disney Infinity in August.