News Archive - March 2013
This is the week of the Game Developers Conference so Disney have been showing off Disney Infinity to the press once again. Unfortunately so far there don't appear to have been any major new announcements so pretty much all of the coverage is going to be about covering the basics once again. Here's a round-up of those articles as they start to appear:
Giant Bomb have a fairly interesting half hour look at the game with John Vignocchi, you get to see more of The Incredibles Play Set as well as some play in the Toy Box.
The Verge have a hands-on with the game covering all you need to know about the premise.
Gamespot's GDC video gives us a good look at the Pirates of the Caribbean Play Set as well as one of the very first proper looks at the Cars Play Set.
GotGame shows off another glimpse of The Incredibles Play Set as well as a look further into the Pirates of the Caribbean Play Set.
On the official Youtube channel for Disney Infinity they have started a series of videos answering the question "What is Disney Infinity?". In this first episode they very briefly cover the four announced play set franchises and the characters that form part of them, including confirmation that Mike and Sulley won't be the only characters from Monsters Inc/University that will be playable at launch.
And it seems like they're looking for questions to answer so make sure to ask any of your burning questions over in the video's comments.
Despite the recent announcement of a delay lots of retailers have now posted pre-orders for Disney Infinity, now due to be released in August.
The general US pricing is $74.99 for a starter pack, $12.99 for an individual character, $29.99 for a triple pack of characters, $34.99 for a play set, and $4.99 for a pack of two power discs.
Amazon and GameStop have a free figure and a free pack of Power Discs when you pre-order the Starter Pack with them, Best Buy have just a free figure and the Disney Store has an offer for $15 off a future purchase. And Walmart seem to have... erm... very slightly lower prices.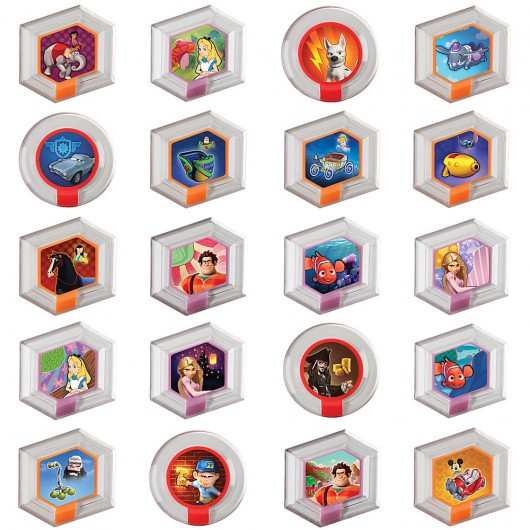 The full selection of 20 "Series 1" Power Discs has been shown off on the official Disney Store with discs for a large number of Disney franchises; Aladdin, Alice in Wonderland, Bolt, Dumbo, Cars, Toy Story, Cinderella, Lilo & Stitch, Mulan, Wreck-it Ralph, Finding Nemo, Tangled, Pirates of the Caribbean, Up, and Mickey Mouse.
Unfortunately with only four power-up discs (the round ones) it seems their policy of one hexagonal and one round disc means that you'll be getting a lot of duplicate power-ups in your search for each of the sixteen Toy Box discs in these blind packs. But of course if you're planning on playing local co-op that may not be such an issue as you'll need discs for both characters on the Infinity Base.
It seems the June deadline was too much pressure as the release date for Disney Infinity has just been pushed back from June to August 18th in the US, August 23rd in the UK and August 20th elsewhere. The delay is said to be for polishing reasons and pressure from retailers rather than problems with the development of the game:
Quote: The New York Times
"We could deliver in June if we wanted to," he said, adding, "Will a two-month timing change help us? Sure, of course. It gives us a little more time to add bells and whistles and make sure it really sings and pops."
It does mean less time to play it over the summer, misses out on the synchronised launch with Monsters University and moves it nearer to the release of the rival franchise's sequel Skylanders: Swap Force which is due out around October.
Source: The New York Times
The fourth and final of the (currently announced) Cars characters has received her video for Disney Infinity.
This one features Holley Shiftwell from Cars 2.
A third Cars character trailer has appeared on the official Disney Infinity Youtube channel, Francesco Bernoulli takes the stage this time with more of a focus on the racing aspect of the Play Set.
Vanellope von Schweetz from Wreck-it Ralph makes a very brief appearance in the Toy Box section.
The official Facebook page for Disney Infinity is running a sweepstake to win the starter pack, note that it's only open to residents of the US.
The Disney Infinity Youtube channel has posted a second individual character trailer, still in the Cars franchise but this time focusing on Mater.
Hidden in there is a glimpse at what seems to be confirmation of Emperor Zurg as a playable character.
The official Disney Infinity Youtube channel has posted a video showcasing Cars own Lightning McQueen as well as a variety of stunts that you can perform in the Cars Play Set and in the Toy Box mode.