News Archive - April 2013
Several US retailers such as GameStop, Walmart and Toys R Us have now posted a new character to add to the launch roster for Disney Infinity this August. Randall "Randy" Boggs is a character from the Monsters University Play Set and will be sold individually as well as in a "Villains" triple pack along with Davy Jones from Pirates of the Caribbean and Syndrome from The Incredibles.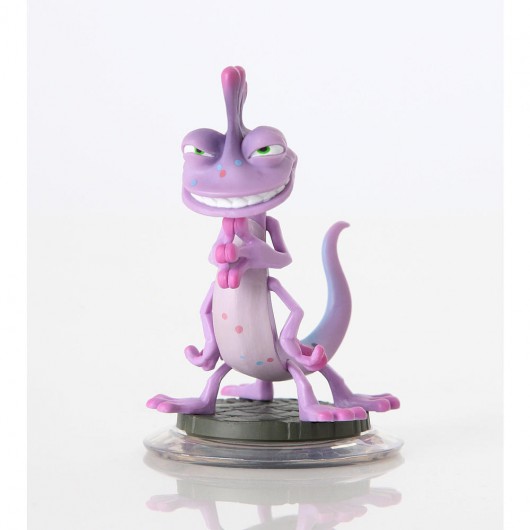 Several listings on Amazon.co.uk have also given more detail to the upcoming range of accessories that will be released alongside the game's launch. Full details can be found after the break.
Disney Infinity Reader Hard Case (£9.99)
Durable plastic protective case for your Infinity reader
Allows access to all bases and offers play-through protection
Includes multiple colourful inserts for character customisation
Disney Infinity Power Disk Capsule (£9.99)
Portable protection and storage solution for your Infinity Power Disks
Holds up to 22 disks
Slide tray allows easy access and keeps Power Disks organised
Includes Hex and Circle double stackers
6 random colours
Disney Infinity Power Disk Album - Holds 20 (£9.99)
Book style storage solution
Space for up to 20 Power Discs
Each slot is designed for each specific disc from Series 1
Disney Infinity Modular Display Case 3-Pack (£19.99)
Stunning display cases for all of your Disney Infinity figures
Features transparent ABS materials with interlocking base
Rubbery base holds and protects your figures
Side plugs lock modules together
Modular system allows multiple stack and display options
Protects figures from dust and scratches
Includes 3 modules complete with lids
Disney Infinity Messenger Bag (£39.99)
Protect, store and comfortably transport all of your Infinity components
Features fold-out play mat for action on the go
Ample storage space for your Base, Figures, Playsets, Power Disks and Web Cards
Disney Infinity Stadium - 2 Stackers and Neoprene Mat (£19.99)
Great value pack containing 2 display stackers plus neoprene mat
Protects Infinity base and figures
Perfect stack, store and display solution
Includes discreet cable management
Features top slide-in slot for Infinity Base
The ESRB have posted a rating summary for a Disney Infinity game on the Nintendo 3DS.
Quote: ESRB
This is a multiplayer "party game" in which players move Disney/Pixar characters around various game boards to compete in mini-game challenges. Mini-games include solving puzzles, racing, fighting, and collecting various items. Several mini-games depict characters shooting "cartoony" pistols, blasters, or cannonballs at ships or enemies/boss characters (e.g., droids, giant squid, pirates). A handful of mini-games require players to shoot other characters with projectiles, resulting in cries of pain and/or "dizzy-star" effects. One mini-game depicts a one-on-one battle with swords on a pirate ship.
Source: Nintendo Everything
Another grand showing off of the Toy Box mode in video form, with a video title of "Toy Box Heroes" they've set a focus on displaying the many different characters and franchises that are set to appear in Disney Infinity.
And this time they've even provided some new screenshots too, check them out in the Screenshots Gallery. There's even more film and TV franchises on display there for you to spot.
And now time for another official introduction to Disney Infinity, this one comes with new footage of playable characters like Buzz Lightyear, Woody, Jessie, Wreck-it Ralph, Vanellope von Schweetz, Ferb, Perry and even a glimpse of a Randall toy.
---
If you have a moment please take part in Curse's "How Do You Game" survey.