Bonus Box Locations
One hundred floating cubes are sitting waiting to be found around Knowhere in the Guardians of the Galaxy Play Set from Disney Infinity: Marvel Super Heroes (2.0 Edition), find them all to complete a feat (and some concept art along the way).
There are five types of Bonus Box in Knowhere, each requiring a different ability to collect. There are 20 each of Maximum Strength, Super Jump, Tech, Flight, and Wall Crawl boxes. You'll need to advance through pretty much the whole of the story as the last two of each set are found in the final area.
The grand reward for finding all of the Bonus Boxes is the "Peter Quill's Audio Player" item for your INterior, to claim it once you have found them all you must go to your INterior and open the box that has appeared.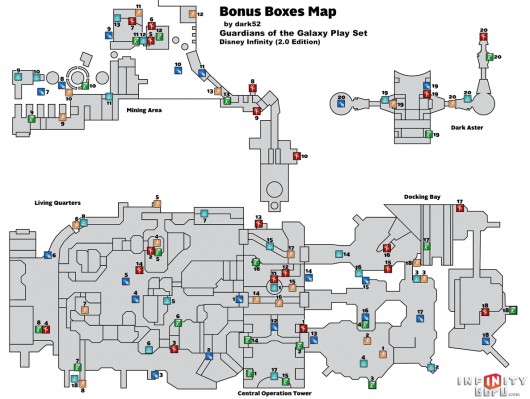 Tech Bonus Boxes
Characters that have the Tech ability are Star-Lord, Rocket Raccoon and Iron Man.
Super Jump Bonus Boxes
Star-Lord, Gamora, Drax, Rocket Raccoon, Ronan and Yondu all have a Super Jump ability.
Maximum Strength Bonus Boxes
Maximum Strength is an ability for Drax, Gamora, Groot and Ronan.
Wall Crawl Bonus Boxes
The Wall Crawlers of this Play Set are Drax and Groot.
Flight Bonus Boxes
The only characters that can fly in the Guardians of the Galaxy Play Set are the two crossovers: Iron Man and Nova.