Details were scarce but today at the D23 presentation the name of the Marvel Play Set was revealed, it's called Marvel Battlegrounds and will for the first time feature 4 player simultaneous play in the Play Set. It was given a release date of March 2016. You'll be able to use all of your existing Marvel characters in the Play Set as well as new characters like Ultron and Hulkbuster Iron Man who are releasing in November well ahead of the Play Set itself. Still no actual reveal of Ant-Man.
Three new Disney figures for Disney Infinity 3.0 were unveiled, the first was Spot from the upcoming Pixar film The Good Dinosaur along with a set of matching Power Discs - they will be released in November. The second and third are from the upcoming Disney film Zootopia Judy Hopps and Nick Wilde. The release date for that film is March 2016 so we can probably expect the figures around then.
A surprise during the Toy Box Summit earlier in the week saw the attending Toy Box Artists get the chance to choose a new figure to be added to the Infinity series next year (according to John Vignocchi he'll be in 3.0). That choice was revealed today as Peter Pan.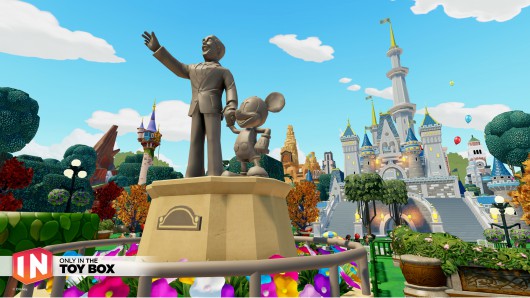 Another little piece of information revealed was that this year the Magic Band unlocks the iconic Partners statue of Walt Disney + Mickey Mouse.
A quick first look at the Star Wars The Force Awakens Play Set happened with a glimpse at figures for Finn and Rey and a quick clip of them in-game but nothing more was really said. One other Star Wars reveal was the existence of new LightCore "Light FX" figures with lightsabers that light up when placed on the Base, they'll be releasing in that November wave. Confirmed characters for that are Luke Skywalker, Darth Vader, Anakin Skywalker, Yoda, Obi-Wan Kenobi, and Kanan Jarrus.
Spoilers for the ultimate unlock for collecting all of the Disney Infinity 3.0 figures released this year - it's the Keyblade from Kingdom Hearts! And finally, all the attendees received an exclusive costume change Power Disc that changes Mickey's costume to King Mickey - a very limited edition release with only 5000 of them made just for D23 so have fun on eBay!