Update: Reveal trailer and screenshots added:
Today Disney have finally officially unveiled their third entry to the Disney Infinity series, Disney Infinity 3.0 takes the focus to Star Wars. We'd seen in leaks the Starter Pack and some of the Disney Originals but now we have a much clearer idea of what the game will be about thanks to Game Informer.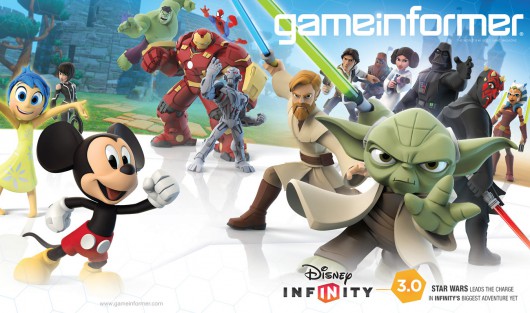 The Play Set included in the Starter Pack will be called "Twilight of the Republic", featuring Anakin and Ahsoka as well as Obi-Wan, Yoda and Darth Maul. It is set around the time frame just after Episode II.
"Rise Against the Empire" is a mishmash of the original trilogy featuring Luke and Leia along with Chewbacca, Han Solo and Darth Vader toys. Apparently there aren't going to be restrictions on which of the Star Wars Play Sets the Star Wars characters can play in which is a welcome change to the odd Marvel restrictions of the last game.
A third Star Wars Play Set will be based on The Force Awakens but that will be released a little later on. There's confirmation of the Inside Out Play Set we saw in the leaks along with all of the other toys spotted on the back of the packaging Mulan, Olaf, Mickey, Minnie, Sam Flynn, Quorra and "more". And one more Play Set is mentioned, a Marvel one which has new toys for Hulkbuster Iron Man, Ultron and also "more".
If you live in the UK or Ireland you may be happy to hear that you will be able to buy a bundle of just the game disc and the Twilight of the Republic Play Set, so no need to get yet another base. You can even buy the game disc all by itself if you don't want the Play Set either.
And lastly good news for those who like Power Discs but don't much like the random nature of purchasing them, Blind Bags are no more. It will be clear exactly which Power Discs it is that you're buying for 3.0, they will also now be sold in packs of four.
Game Informer has a video showing a bit of behind the scenes with some screenshots of the game and a look at a few of the figures.