With today marking the official US release of Disney Infinity: Marvel Super Heroes (2.0 Edition) I have whipped up a couple of rough maps of New York as seen in the Avengers Play Set. This first one should help you find the Crossover Coins which allow you to bring Rocket Raccoon and Nova into the Avengers Play Set. If you click here I've provided screenshots of their exact locations to further help you pin them down.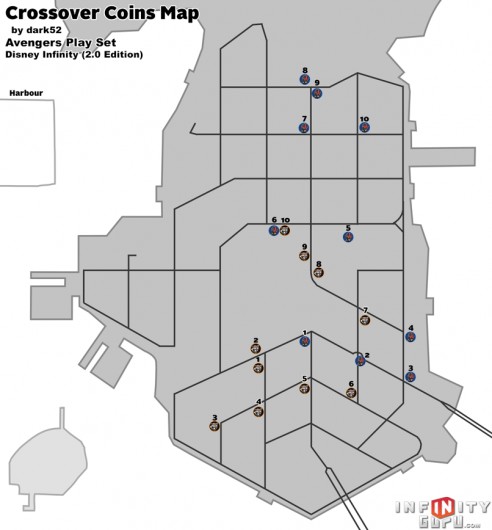 And I've also made a map for the Flight, Super Jump, Tech,and Ultimate Strength Bonus Boxes that give you concept art (unfortunately I don't own a Hulk toy so it doesn't contain the Wall Climb boxes just yet, sorry now updated with Wall Crawl Bonus Boxes thanks to the PC version's Hulk trial). Again I've made a page here that contains screenshots of all the locations if the general outline isn't quite enough.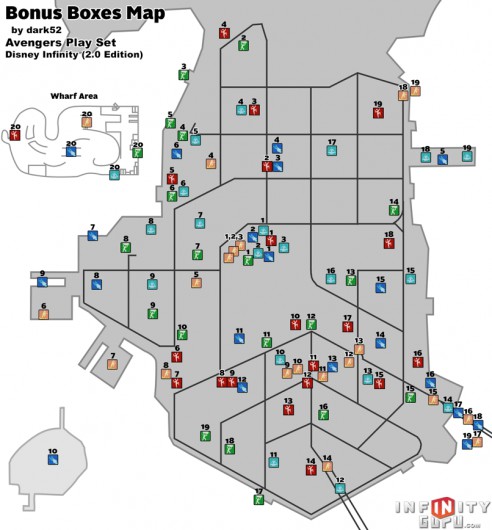 Check back soon for similar collectible guides for the Spider-Man and Guardians of the Galaxy Play Sets.